(VNS)— Viet Nam and World Bank (WB) are working on an agreement that would provide US$250 million to build 2,500 small-scale bridges in remote areas across 50 provinces in Viet Nam, Deputy Minister of Transport Nguyen Hong Truong has said while visiting some bridges in northern Tuyen Quang Province's disadvantaged areas with a WB representative.
Negotiations for the agreement are expected to finish next year, paving the way for Viet Nam to carry out the second phase of a project to build bridges in remote areas, especially in mountainous regions where ethnic groups lived.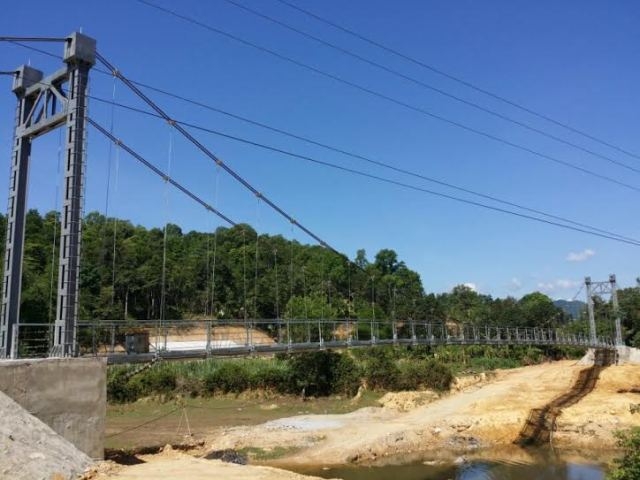 (Khe Tay bridge)
"The project is expected to be completed by the end of 2018, helping improve transport infrastructure and basically meet the traveling demands of residents in remote mountainous areas," Truong said.
He said that their visit on Wednesday aimed to assess the effectiveness of newly-built bridges in the province and the need to have more such bridges in the provinces and other localities.
Victoria Kwakwa, WB Country Director in Viet Nam, said that those bridges were an optimal solution for local socio-economic development and for residents in remote areas, especially poor people.
She said that the WB would continue to co-operate with the transport ministry to build more meaningful and useful bridges.
"The World Bank plans to offer US$250 million to build about 2,500 bridges belonging to the second phase of the project," she said.
Last year, the transport ministry launched the project to build small-scale bridges in remote areas where ethnic groups live. Under the project, Viet Nam needs about VND12.6 trillion ($563 million) to build 7,800 small bridges across the country.
During the first phase of the project, 186 suspension bridges were built to meet the urgent needs of local residents in 28 mountainous provinces in the north, the central and Central Highland regions.
Ha Xuan Hao, a resident in Hinh Lai Commune, Son Duong District in Tuyen Quang Province said that he and local residents were very happy to have a new suspension bridge in their residence.
Previously, they used a floating bridge made from bamboo and barrels, he said.
"During rainy season, the floating bridge was removed and we hardly travelled," he said, adding that they usually had to store food for months at a time during rainy season because of limited travelling.
General Director of the Directorate for Roads of Viet Nam, Nguyen Van Huyen, said that early this year, transport ministry and the National Traffic Safety Committee also launched the programme "Bridge of Love" to raise funds to build small-scale bridges for ethnic people.
He said that with donations from enterprises and individuals, the construction of 49 suspension bridges were kicked off and are expected to be completed by the lunar New Year festival next February.
The public and authorities including the transport ministry are more concerned about suspension bridges in remote mountainous areas since the deadly collapse of the Chu Va 6 suspension bridge in Son Binh Commune of Tam Duong District, northern Lai Chau Province in February, 2014 that killed 8 people and injured 38 others. The Chu Va 6, with a length of 54m and a loading capacity of 1.5 tonnes, began operation in late 2012.
It was reported that the cause of the incident was a sudden failing of screws attached to the girders. The screws used in the construction process had also been found not to meet production standards. The ministry's inspectors also discovered that the bridge's pylons had been built with brick instead of with concrete, which might have also contributed to the collapse.
Figures from the ministry indicate there are about 1,950 suspension bridges in Viet Nam. About 809 operational bridges - roughly 40 per cent - have shown signs of erosion and rust. Up to 94 per cent of them are located on roads connecting villages and communes.
Suspension bridges are typically built with the weight of the deck supported by vertical cables suspended from other cables running between towers. They are anchored in abutments at both ends