In the north of Vietnam, there is currently only 1 international airport Noi Bai. With the colossal amount of goods produced by 20 million people in the Red River Delta and the increasing presence of international manufacturers in the region, a plan to increase the reliability of air traffic system in the north is well underway to provide abundant air traffic system for cargo and passengers.
Noi Bai Airport (Hanoi) had a new passenger terminal completed in January this year to accommodate 10 million passengers additionally per year. Following this expansion, Cat Bi Airport (Haiphong) is also being upgraded into 4E international grade to handle passengers and the goods produced by manufacturers in the Red River Delta and this industrial port city as well as to act as a second pivoting point for the north of Vietnam.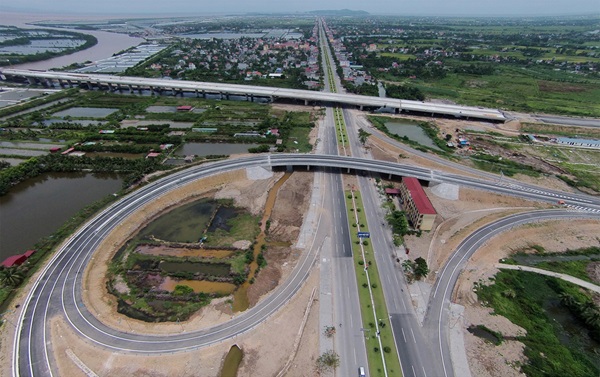 Located 5km southeast of Hai Phong, Cat Bi Airport is one of the most important airports in Viet Nam with an annual growth rate of more than20 per cent. The VND 5 trillion ($240 million) upgrade plan consists of a new 3km runway, new passenger terminal building with 8 new aprons and an air traffic control tower. Once completed in 2016, the international airport of Haiphong (Cat Bi) will be capable of receiving Boeing B747, Boeing B777 and Airbus A350 aircrafts. Annual passenger capacity will be increased to two million per year, along with 20,000 tonnes of cargo. By 2025, following more expansion, the numbers are expected to hit eight million passengers and 250,000 tonnes of cargo.
Complementing a abundant and reliable air traffic system, a new highway has also been put in place between Hanoi and Hai Phong, reducing travelling time from 2.5 hours to just under 1 hour. Construction for Hanoi - Hai Phong New Highway started in 2008 under a build-operate-transfer agreement. Being Viet Nam's most modern highway, Hanoi-Hai Phong New Highway spreads over 105.5km with six lanes, two shoulders and a speed limit of 120kmph. It begins at Belt Road No. 3 in the capital city, traverses Hung Yen and Hai Duong provinces, andends at Dinh Vu Port in Hai Phong. By September this year, 75km connecting Hung Yen and Hai Phong were opened to traffic. By the end of the year, the whole highway will be fully open, making it a vital link between not only the 2 airports but also Haiphong International Gateway Port the biggest port in the north of Vietnam with the Red River Delta.
This complete transport system will not only reduce transportation costs significantly but also make it abundant reliable, enhancing the competitiveness and attractiveness of the region. Direct beneficiaries of these developments will be companies operating in Haiphong city, especially those in Dinh Vu/ Deep C Industrial Zone - the IZ lying closest in the heart of all these infrastructure items. •